Executive Summary
OVERVIEW:
The Lean Construction Development Pathway (LCDP) has improved productivity and performance on six major infrastructure projects by supporting a fully integrated, evidenced based Lean Construction standard in which Tier 1 contractors and their supply chain can develop participants capability and capacity to collaboratively deliver projects cheaper, faster and better. ​
Working collaboratively with 6 partner companies and industry experts we have together created a comprehensive competency framework enabling a transferrable standardised approach to Lean Construction across the Supply Chain.​
LCI-UK's unique Lean learning pathways are structured into a blended learning experience incorporating e-learning, animations, quizzes, assessments, videos and graded evidenced work-based Lean activities. This approach ensures the learning is embedded into the everyday work following a Know-Do-Show approach. ​
Encompassed within a ground-breaking Learning Management System and digital database of improvement projects and their related benefits. ​
Visual, dynamic, role driven dashboards display an instant picture of progress, capabilities and achievements that can be aggregated and filter at multiply levels. ​
OBJECTIVES: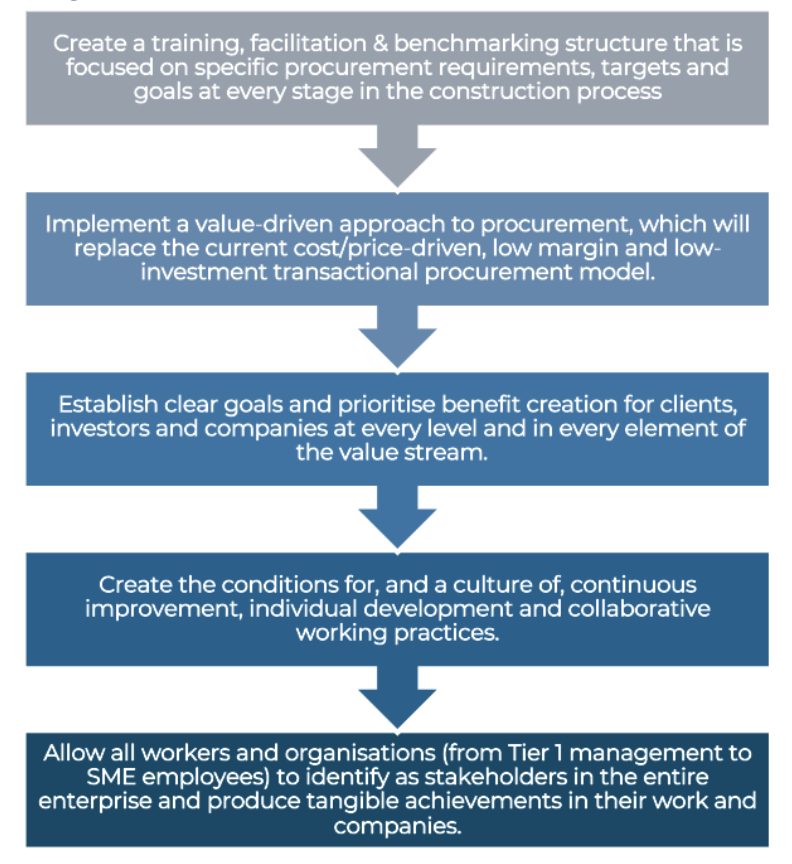 DELIVERABLES:
ENGAGEMENT​
Engage with project stakeholders, project director, procurement and construction teams and their key supply.​
Draw up a strategic development plan which identifies the value creation imperatives which determine the procurement objectives for the entire project​
DEVELOPMENT​
Develop a comprehensive competency framework and training credits system which defines the knowledge and skills required to improve productivity at all levels in the construction industry supply chain.​
Submit to CITB training standard team a matrix-based training standard productivity improvement that can be delivered by LCI-UK approved facilitators. ​
Create standardised learning and development resources and integration into the Learning Management System.​
Develop systems for the collection and analysis of improvement data on individual, project-based and organisational skills and capabilities attainments. Collate and analyse standardised meta-data about Lean improvements and providing customisable dashboards and reports on the benefits achieved. ​
DEPLOYMENT ​
Roll out the programme to between 800 – 1200 beneficiaries on Highways schemes with partner companies and their subcontractors targeting 40 improvement projects​
DISSEMINATION​
Develop and disseminate a common approach to measure, and calculate productivity improvement, return on investment and apply to effective collaborative practices​
Productivity improvements, savings and other impacts generated will be disseminated to the UK Construction Industry through ongoing PR activities​
​What distinguishes this approach is its understanding of procurement – not as a discrete stage early in a single project but as a continuing, integrating process and development opportunity.​
Programme Overview: